There is a world of marble outside of the classic stray veining. Bamboo marble is a fantastic example of a natural stone that has both depth and class.
This breathtaking, gray polished marble comes in both slabs and tiles. This marble, named after its bamboo design characteristics, nearly speaks for itself with its elegance.
When it comes to marble home design, why not choose something with texture and pattern? Update your home design and bring a flash of luxury into your space by using our Bamboo Marble in your countertops and backsplashes. Here are 3 great ways to use bamboo marble for your next project.
Marble Bathrooms
Marble and bathrooms just go together. There is something about the clean, relaxing "spa" look of Bamboo marble that works perfectly for shower walls. This polished marble comes in slabs or tiles, making it perfect for use in your shower, as an accent wall or backsplash, or as a marble counter for your vanity. The neutral color palette of this marble makes it perfect for decorating in any home décor style.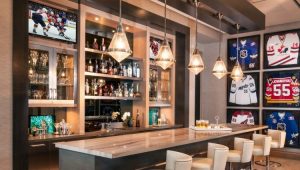 A Striking Countertop
As seen in Marmol's Boca Raton South Florida getaway home renovation, Bamboo marble makes the perfect entertainment unit when used for any countertop. This home sports bar is beautifully accented by the marble's glossy, reflective finish. This look adds drama and dimension to any countertop, whether in a home bar, kitchen, or Kitchen Island.
As with any polished marble, be cautious of spills and acidity touching the marble surface, as it can etch the luxe finish.
Bamboo Marble Accent Pieces
Since this style of marble has both a sparkling finish and an eye-catching pattern, it makes it the perfect choice for accent pieces. Use this behind your bed as a faux headboard or along the back of your kitchen or bathroom counter as a backsplash.
You may also use this neutral colored stone in marble columns and create a perfect European ambiance in your space. Bamboo would also make for a stunning entryway floor, though would be best suited for low-traffic areas since the high-shine finish would make the wear that comes over time more visible.