If you're looking to update your kitchen with natural stone, this is the blog for you. Using marble in the kitchen creates an effortlessly stylish look.
This natural stone is an amazing choice for your counters, islands, and backsplashes whether you're looking to create a sleek and modern home design or prefer a classic, timeless European look.
With styles ranging from matching backsplashes and boldly veined marbles to classic islands and high-contrast looks, we're looking at a wide variety of marble kitchen designs to inspire your new project.
Marble Countertops and Backsplashes
We love using a classic marble stone against a beautiful pop of color. This South Florida home has beautiful blue walls that pop against the clean Everest Marble countertop and backsplash. This marble was chosen to match the crisp, white cabinets while still pulling in visual texture and interest.
High-Contrast Designs
One marble kitchen design we love is creating a high-contrast look between the cabinets and the natural stone. This method draws the eye and creates depth and texture. Using this method can also make smaller kitchens appear large.
In this South Miami kitchen, Marmol used Mystery White Marble against black cabinets to create a bold, yet sleek and elegant look. This high-contrast marble design can be used with many other colors combinations to fit your style and taste.
Boldly Veined Marbles
When you think of marble, you likely think of that creamy finish with striking, bold veining throughout. This is the classic picture of marble and one of our favorites to use to create a daring focal piece in a kitchen.
In this Coral Gables home, we used Bamboo Marble to blend in with the monochromatic color palate of the kitchen, while still drawing the eye and creating a daring focal piece with the kitchen island.
Outdoor Kitchen Opportunities
Kitchens are not relative to indoor designs. We love to design an outdoor kitchen and bar using beautifully textured marbles and natural stone.
When designing this patio bar, we played with outdoor spaces and bold natural stone choices to create a stunning outdoor kitchen area: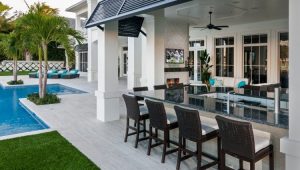 You can incorporate marble or your favorite natural stone outdoors to create a beautiful floor for your outside kitchen/bar.
There are so many options for creating a beautiful, natural stone kitchen inside or outside of your home. When it comes to marble kitchen designs, don't be afraid of using colored stone or bold textures to create the look you want. When it comes to Marmol, the possibilities are endless.