Whether it's a commercial bar or a joy in the home, your bar is where people gather to relax, sip a drink, and have fun.
Your bartop should be durable, pleasing to the eyes, and should suit your style. From marble to granite and everything in between, there is no shortage of great stone selections for bartops.
Entertaining guests is your main goal when it comes to your bar, which makes the design of your space key to creating the perfect ambiance. Create the right atmosphere with these great stone selections for bartops.
Quartz Stone for Bar Countertops
Quartz countertops have amazing qualities that make them a great stone selection for your bartop. Quarts is an attractive stone that can come of sleek and chic, regal and elegant, or colorful and bold. Similar to granite, Quartz is a strong, durable natural stone that holds up against spills, hard drops, and won't chip or crack easily. It is non-porous, making it a great choice for resisting stains. Being non-porous also means it will not harbor any bacteria and will be easier to clean.
Benefits of Granite Bartops
Granite is one of the great stone selections for bartops, since it is sanitary, stain resistant (when sealed), and incredibly durable. This makes it perfect for indoor or outdoor use. Another great thing about using granite for your bartop is the wide variety of colors available. This means you can make your counters as bold or as elegant as you like.
In this Boca Raton residence, Marmol used the stunning Volga Blue granite slab to create drama and visual interest in the outside bar: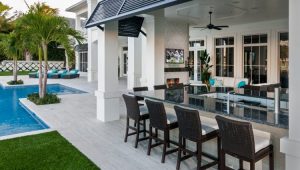 Exquisite Marble Bartops
There is an unmistakable class and elegance that is created when you introduce marble into any space. It has an unmatched beauty and wide stone selection. Marble is a cool natural stone, making it listed as a heat resistant stone. It will not burn or catch fire. Marble is also durable when sealed and will last a lifetime when properly cared for.
When decorating a Boca Raton getaway home, Marmol chose the beautiful Bamboo marble slab in the home sports bar so the owners could entertain guests in style. Marble adds immense visual interest and looks sleek and polished in any space.
Whether your bar is commercial or a home entertainment area, choosing from our great stone selections for bartops will make all the difference in the look of your space. Come see our selection of over 250 different styles of natural stones in our catalog and start dreaming of your perfect bar.